> Home > What to visit > Castles
Castello di Tornano
Gaiole in Chianti
CASTLES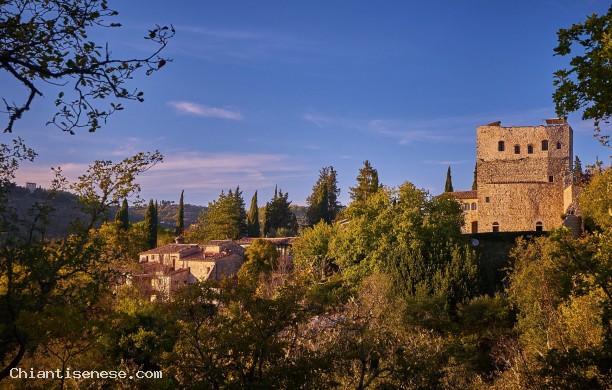 PHONE NUMBERS AND TIMES

Castello di Tornano
53013 Gaiole in Chianti, LocalitÓ. Tornano



Business card (vCard)
ORARI DI APERTURA E VISITA:
Private structure used as a Resort

The first mention of the "curtem" of Tornano dates back to July 790, during the 17th year of the reign of Charlemagne in Italy. In fact, it seems that the castle of Tornano was donated by 3 Lombard brothers named: Atroald, Adonald and Adopald, to the Monastery of S. Bartolomeo a Ripoli near Florence, founded by their great-grandfather Adonald.
On 23 January 1167 the Emperor Frederick Barbarossa with a decree kept in the archive of the Castle of Brolio, dispossessed Warnellottus da Tornano (Guarnellotto) of his rights on the Castles of Tornano and Campi "pro gravibus malefici que contra nostram coronam commisit". Guarnellotto had made himself guilty of having captured an imperial messenger, so his property rights were transferred by granting them Ranieri di Berelingero, his former general.
The renowned ferocity of Guarnellotto who, owner of two strategic sites such as Tornano and Campi, guarded one of the main roads in the area and used to extort all those who passed through it with brutal regularity. Later the property of Tornano passed to the Ricasoli Firidolfi family.
Within the walls of the castle of Tornano there was an ancient chapel which became a parish annexed to the parish church of S. Marcellino. In a census of the year 1427, the Parish of San Quirico in Tornano had 32 inhabitants divided into 5 families.
During the two bloody Aragonese invasions of 1453 and 1477, which caused the destruction or damage of the major castles of Chianti, including the mighty Brolio, they come back faithful to its tradition of being an inaccessible place, it was never conquered.
The Castello di Tornano from the 70s of the twentieth century belongs to the Selvolini family of Florence who transformed it into a beautiful accommodation facility.
STAY

NEARBY
DINING & ENTERTAINMENT

NEARBY