> Home > What to visit > Palaces and Monuments
Villa Vistarenni
Gaiole in Chianti
PALACES AND MONUMENTS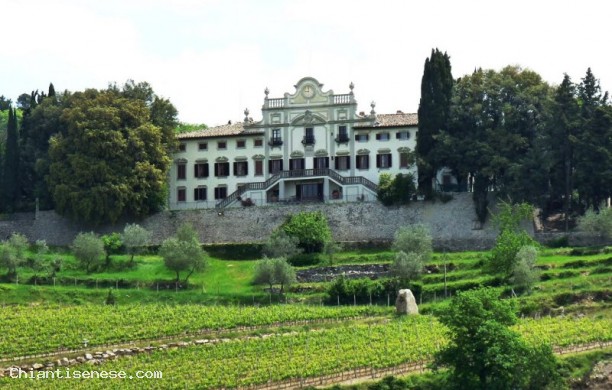 It was originally known as Fisterinne and with that name, do not know if it refers to a castle or a favorite summer resort, we find it mentioned for the first time on a map of Badia a Coltibuono dating back to 1033, in this act were drawn up in the castle of Montegrossi defined boundaries with San Donato in Perano.

In the fifteenth century was Fisterinne proprierÓ family Cecchini in Panzano. In 1621 he went to Giannozzo from Cepparello to end up in the next century the family Pianigiani, originating in Radda in Chianti and in that time is converted from the castle in Renaissance villa with courtyard, garden, mill and wine cellar. In 1852 the Villa stellar purchased by Ferdinando Strozzi, Senator of the Kingdom of Italy in 1860. In 1895, it is owned by Baron Giorgio Sonnino, brother of Sidney Sonnino and currently belongs to the family Tognana.

In the park there is a chapel dedicated to St. Mary Magdalene de 'Pazzi. The chapel has the date 1584 on the lintel and the following inscription: DOM TM MAGDALENA DE Pazzis OF A.D. MDLXXXIV. The chapel was used as a private family burial Sonnino. The mystery remains as to why it was named after Mary Magdalene de 'Pazzi.
STAY

NEARBY
DINING & ENTERTAINMENT

NEARBY