> Home > >
Corale San Niccolò
Radda in Chianti
MUSICA E SPETTACOLI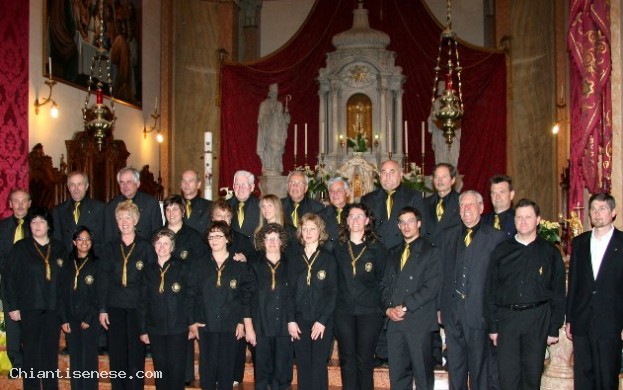 PHONE NUMBERS

Corale San Niccolò
Casella Postale 38 53017 Radda in Chianti

Telephone 0577 738087
Mobile phone: 347 9066081


Business card (vCard)
The Choral S.
Nicholas began his business in 1986 in order to serve in the major festivals of the parish, stabilizing its staff to twenty-five singers around.
In its rich curriculum include the participation of 15 diocesan editions of the Festival of Sacred Music, 3 admissions to the Regional Festival of Sacred Music Bridge Buggianese, the presence at the National Conference of the Scholae Cantorum in the Basilica of St.
Peter in the Vatican in 1990 and 2003.
In June 2000, together with the Choral S.
Cecilia Ciuffenna They carried out a series of concerts in Switzerland.
Recall also the traditional concert of the Epiphany in Radda, now in its twentieth edition in which he participated in the 2001 Monsignor Domenico Bartolucci already Master of the Sistine Chapel and is considered one of the greatest contemporary composers, the Choir is dedicated not only to
Sacred Music, also has songs in his repertoire of popular music and opera running in collaboration with various soloists,

including the Missa Brevis KV 275 by WA Mozart, Cantata BWV 136 by JS
Bach, the Te Deum and the Coronation Mass KV 317 by WA
Mozart.


He later starred Gloria RV589 by Antonio Vivaldi, all the concerts with orchestra and soloists interpreted in conjunction with the Chorale St.
They Ciuffenna Cecilia Choir and the Fra Angelico of Fiesole.
In June 2007 the Chorale St.
Nicholas Choir in collaboration with S.
St. Genesius
Miniato (PI) and the Polyphonic Choir Santa Barbara Massa Marittima (Gr) performed in around Tuscany, and in the magnificent Basilica of St.
Maria Maggiore in Rome "Ascension" Oratorio for soloists, chorus and orchestra on the occasion of 90 anniversary of Maestro Domenico Bartolucci.
In 2010 he was executed, with the Orchestra of the Musical Chapel of the Cathedral of Fiesole, the Requiem KV 626 by Mozart.
From 2007 he was made the Choir of Choirs of the Choral and the following year was created the School of Music in Choral where they study, about 20 children territorio.I of our courses are activated so far, Solfeggio, Choral,
Piano and Flute.
The teachers and Daniel Francis Zampi Dori, organist and choir of St Nicholas Rectory of the lessons in Piano, Solfeggio and Choral, along with a flute teacher.